Infinity TS-260C7 Profile Engine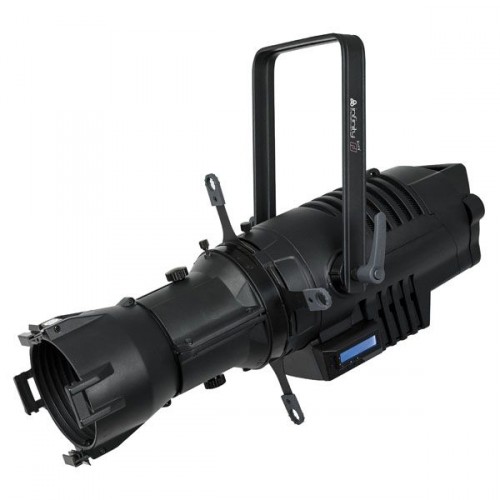 Please contact us for best pricing and to discus your requirements.
• Performance of a 750W Tungsten Halogen unit with a consumption of 260W
• Colour wheel simulating 64 matching spectrum Filter gels
• LED Colour Linearity Compensation
• LED Colour Temperature Drift Compensation (on all LEDs)
• Optics Colour Shift compensation
• Homogenised beam with no multiple colour shadows
Body without lens

The new standard for Theatre illumination, the infinity Signature series. The tools you have always wanted to create beautiful, energy efficient lighting for your theatre, church, studio or school. These luminaires utilise the latest LED technology with European software wile having operational and lens options familiar to any entertainment technician. To create this new range of theatre lights, we have found an excellent partner in Robert Juliat

The Infinity Signature Series Theatre Profile is a state of the art high resolution theatrical luminaire. Offering the option of either variable beam zoom lens or industry standard fixed beam tubes you can achieve precise beam control and pattern projection. Using Lumiled LEDs to deliver consistent and rich colours ensures your creative palette is infinite.
No longer do you have to worry about blown lamps of having the right gel loaded in the luminaire. Our software ensures you will have the right colour available, always!
Industry specialist have selected 64 of the most used theatrical colours which are applied in the built-in virtual stroller. Simple select the colour you want from the virtual swatch-book and it will be the same across all fixtures. A dedicated team of software and optical engineers have worked hard to deliver the best CRI and output for each colour, saving you from having to try and find it manually. The software will monitor the fixture and applies its linearity compensation, Temperature drift compensation and optics colour shift compensation to ensure a stable and accurate light output in all circumstances.
The Tungsten Mode will simulate the given tungsten light source spectrum resulting in an identical spectral response when using the colour wheel applying colour temperature shift of the given tungsten source. Timing and inertia of the tungsten mode, when dimming up and down, will give the same afterglow as expected from an 'old fashion' filament Profiles.
Together with the ability to seamlessly mix colours we offer a unique dimming software that allows for perfect flickerless crossfades or instant bumps and flashes. This together with lower power consumption makes the Infinity Theatre Profiles the only luminaire you will need for washes, pattern projections or specials.
When it comes to mechanical focusing all operations can be performed with one hand. The zoom focus mechanism is simple and intuitive, pull, twist, position and lock. While focus is delivered by a simple turn on the focus ring. With a beam angle scale and lock off angle information this is the perfect choice for reparatory houses that are focusing the same shows on a regular basis.
Four surgical steel shutters with large handles ensure easy operation. Gobo holders, iris and diffusers ensure you have the beam shape and edge you need.
LED Engine
Source: 260W Lumiled 7 colour LED engine using custom designed array.

Optical Information
Output: 4500lm
CRI: Consistently >96 (High CRI Mode)
Colour Temperature: 2000K ~ 8000K
Beam Angles: 15°-35°, 25°-50°, 5°,10°,14°, 19°, 26°, 36°, 50°

Electrical Specifications:
Voltage: 100 -240 volts AC.
Frequency: 50/60 Hz
Power Factor: 0,96
Consumption: 260W max

Environmental Specifications:
Ambient Temp: 0°C ~40°C (operating) / -10°C ~45°C (startup)
IP Rating: IP 20 indoor use only
Conformity: CE Mark

Control Specifications:
Control: Onboard Menu, RDM, DMX512
DMX Channels: Dimmer Mode, 1Ch
Basic Mode, 5Ch
Tungsten Mode, 6Ch
HSI Pro Mode, 10Ch
RGB Pro Mode, 10Ch
CMY Pro Mode, 10Ch
RAW Mode, 20Ch
Mechanical Specifications:
Construction: Machined Aluminium, sheet metal, moulded engineering grade plastics.
Colour: Black
Weight: 8,5Kg